Year One Merry Colouring Project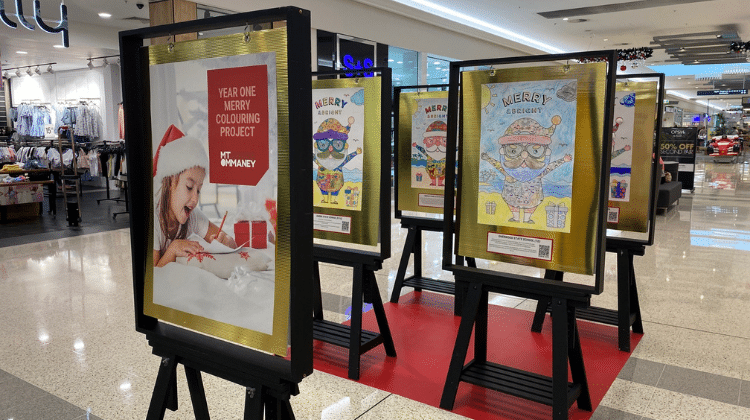 To add a little joy into the tail end of this year, Mt Ommaney invited local schools' year ones to participate in a colouring-in competition whereby students would be collaborating on the same sheet together.
We would like to thank Darra State School, Kenmore South State School, Middle Park State School, Mount Ommaney Special School, Sherwood State School and Western Suburbs State Special School for participating. All of your students have done an amazing job bringing Santa and his Christmas rashie to life!
All of the artwork is now on display across from Ally Fashion, be sure to check it out while you can!
DARRA STATE SCHOOL (1H)

DARRA STATE SCHOOL (P/1G)

KENMORE SOUTH STATE SCHOOL

MIDDLE PARK STATE
SCHOOL (1L)

MOUNT OMMANEY
SPECIAL SCHOOL
(MOSS)

SHERWOOD STATE
SCHOOL (1D)

SHERWOOD STATE
SCHOOL (1PB)

SHERWOOD STATE
SCHOOL (1B)

WESTERN SUBURBS
STATE SPECIAL
SCHOOL
CONGRATULATIONS TO OUR WINNERS, MIDDLE PARK STATE SCHOOL YEAR 1L!
Want to know more about our participating schools?
Darra State School
We are family, we promote belonging.
Darra State School is a small school where all our students are known by name, they won't be lost in a crowd.
Inspiring our community to become successful inspired life long learners and global citizens is our vision.
Kenmore South State School
Kenmore South State School is a great  school  which offers quality programs across all learning areas. At the heart of our school is our positive approach to learning, encouraging students to engage in the learning process as Positive Agile Learners (PALS). The joy of learning flourishes in an atmosphere of trust, sharing and caring.
The school has a strong focus on STEAM with a dedicated eLearning and Digital Technologies specialist teacher working across the school to deliver the Digital Technologies curriculum, greatly assisting students to become contemporary learners. Kenmore South prides itself on the range of enrichment activities for all students including many lunchtime clubs: Environment Club, Coding, Art, Maths, Skipping, Dance and many more.
As an inclusive school, Kenmore South celebrates the individual strengths of each student, embracing the differences that we all bring.
Middle Park State School
Middle Park State School opened in January 1987 with 156 students and today has around 650 students. Our school is surrounded by trees and has expansive grounds with plenty of room for students to run and play. The generous support of the school P&C allows us to constantly update learning resources and facilities to provide an engaging learning environment for students. This commitment to education and close partnership between staff and community makes Middle Park State School a special place to be.
Mount Ommaney Special School
Mount Ommaney Special School, commonly known as "MOSS", was first opened in 1992. MOSS provides educational programs for students aged between 5-18 years who meet the criteria for special school enrolment. In 2020 we have approximately 105 students with approximately 90 students attending our Early Childhood Development Program (ECDP). We value working with our families and community members as partners in educating our students. Our vision is to provide engaging, differentiated curriculum and innovative, specialised teaching in partnership with families and the community in a safe and supportive environment.
Sherwood State School
At Sherwood State School, our motto is 'Aim Higher'. We strive to achieve the best outcomes for all of our students. Students at Sherwood State School are courageous, resilient life-long learners. They are safe, respectful and responsible.
Sherwood State School has an excellent Arts programme, which includes visual art, strings, band, choir, drama and media arts. We foster creativity and innovate thinking, especially in the arts.
Western Suburbs State Special School
Western Suburbs Special School delivers an individualised curriculum for our students while providing all students access to the Australian curriculum. Our educational environment supports students to gain the skills and confidence to engage happily in the community
Voting closes Monday 30 November 2020 at 11.59pm.
Winning school announced via Facebook Tuesday 1 December at 10am.
Random winner notified via email Tuesday 1 December at 5pm.