April Eats Food Coupon Booklet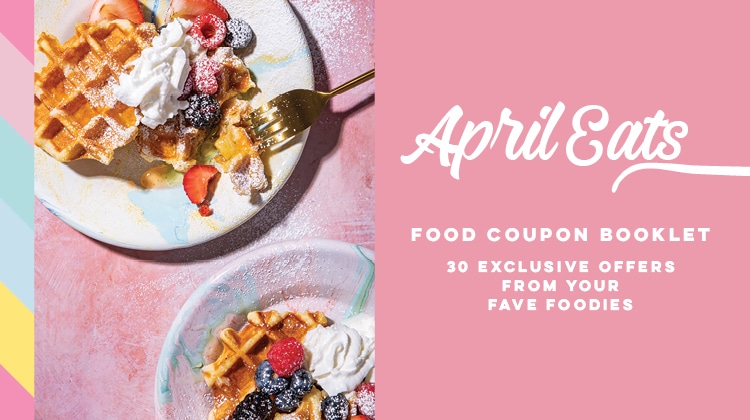 IT'S HERE! Mt Ommaney's April Eats booklet full of food and drink offers is now ripe for the taking! If you love Mt Om foodies, or you want to try something new, this coupon booklet is just for you!
Enjoy 30 exclusive offers from your favourite foodies throughout April with our selection of $5, $10 and buy 1 get 1 free offers. Lunch options, coffee and cake, cold beverage options galore… you don't want to miss out on our April Eats offers!
FAQ
When are the coupons valid for?
1 – 30 April
Where are the coupons valid?
Participating retailers: 8 Thai (8 Street), Ali Baba, Boba Chicken (8 Street), Boost Juice, Burlington BBQ (8 Street), Crema Espresso, Gong Cha, Jamaica Blue, Japanice (8 Street), Long Chef Vietnamese, McDonald's, Mekong, Mr Curry (8 Street), Mrs Fields, Muffin Break, Rolling Man (8 Street), Sakura Fresh Bar & Sushi, Shingle Inn, Subway, Sumo Salad, Sunny-Side Up, Sushi Sushi, The Cheesecake Shop, The Coffee Club, The Little Trike, Won Ton Ton (8 Street). Exclusive to Mt Ommaney Centre retailers.
Click here for retailer contact details and locations.
How do I get my coupon booklet?
Visit any participating retailer or the Customer Service Desk near Michael Hill to grab your FREE coupon booklet.
How do I redeem my coupons?
Visit your food retailer of choice, order their exclusive offer. When paying, tear out their voucher and present it with your payment.
T&Cs apply. Offers only valid 1-30 April 2021 at Mt Ommaney Centre. One time use only, coupon must be surrendered at time of purchase. All offers correct at time of printing. Some offers may include additional terms.