HELP OZ HARVEST FEED FAMILIES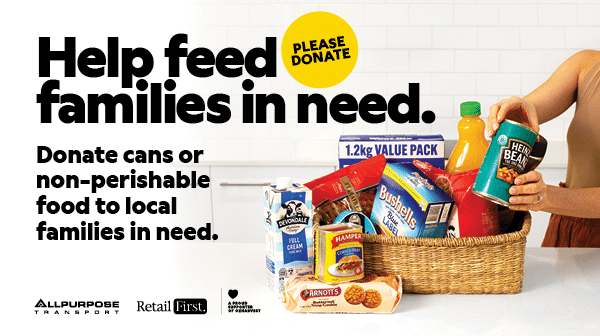 We are pleased to announce Mt Ommaney Centre, Retail First and All Purpose Transport have joined forces again this year to support Ozharvest in providing non-perishable food to local families in need.
DID YOU KNOW? 
Over 2 million households in Australia went hungry in the last 12 months due to lack of funds, sometimes skipping meals or going whole days without eating AND demand for food relief is higher than ever.
HELP OZHARVEST FEED LOCAL FAMILIES THIS CHRISTMAS…
One of Australia's leading food rescue organisations, OzHarvest collects quality excess food from commercial outlets and delivers this directly to more than 1300 charities supporting people in need. With their underlying purpose to nourish the country, they rescue over 180 tonnes of food each week from over 3,500 food donors, donating these goods to homeless shelters, women's and men's refuges, the elderly, people with disabilities plus more organisations.
HOW CAN YOU HELP? 
From now until the 31st of December 2023, donation boxes are located outside Coles/Aldi and Woolworths, encouraging customers to donate a couple of cans, a bag of pasta or a box of cereal – any non-perishable food items that can help those in need. All Purpose Transport will regularly collect and deliver these donations, with OzHarvest to distribute these to those who need it most.
It is such an easy and inexpensive way to 'give' this Christmas, and you will directly be helping our local community, including families in need.
Follow us online to stay abreast our efforts: Facebook | Instagram 
For more information about OzHarvest visit https://www.ozharvest.org/